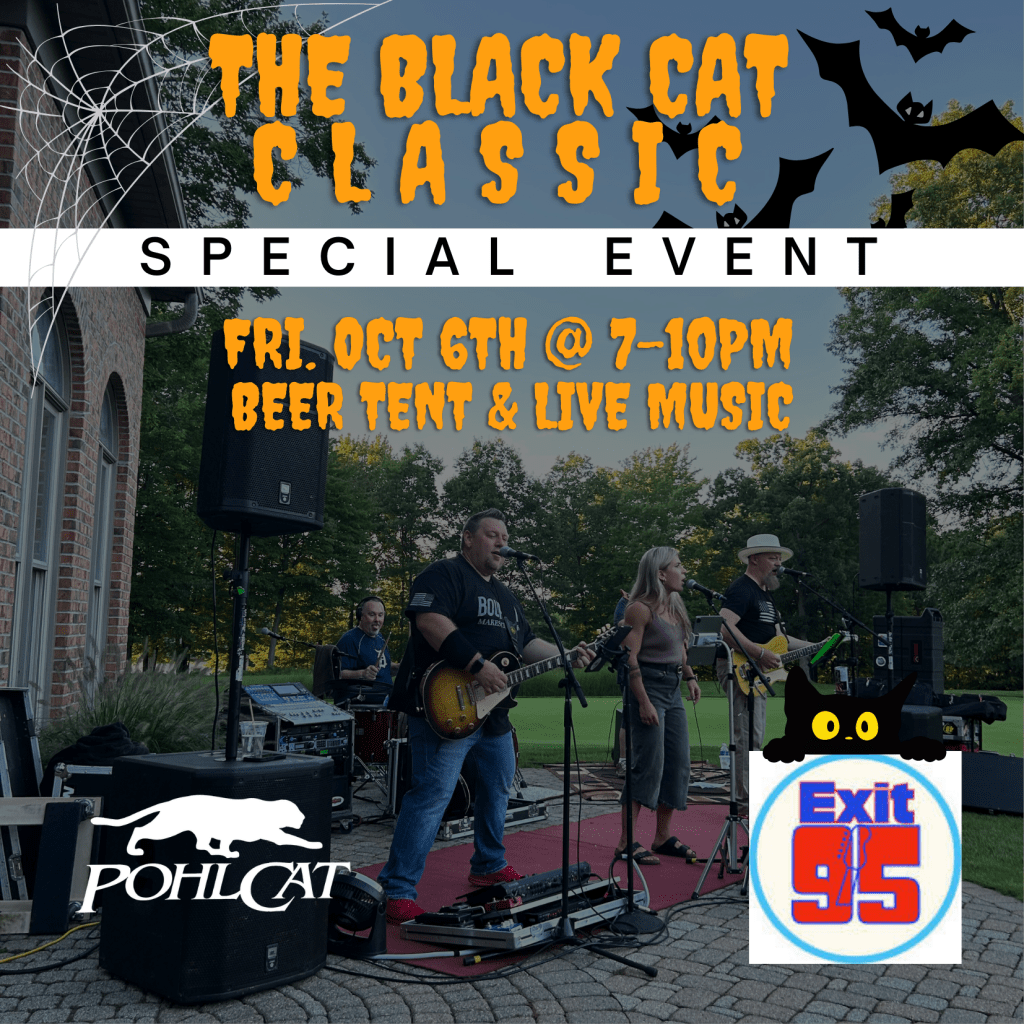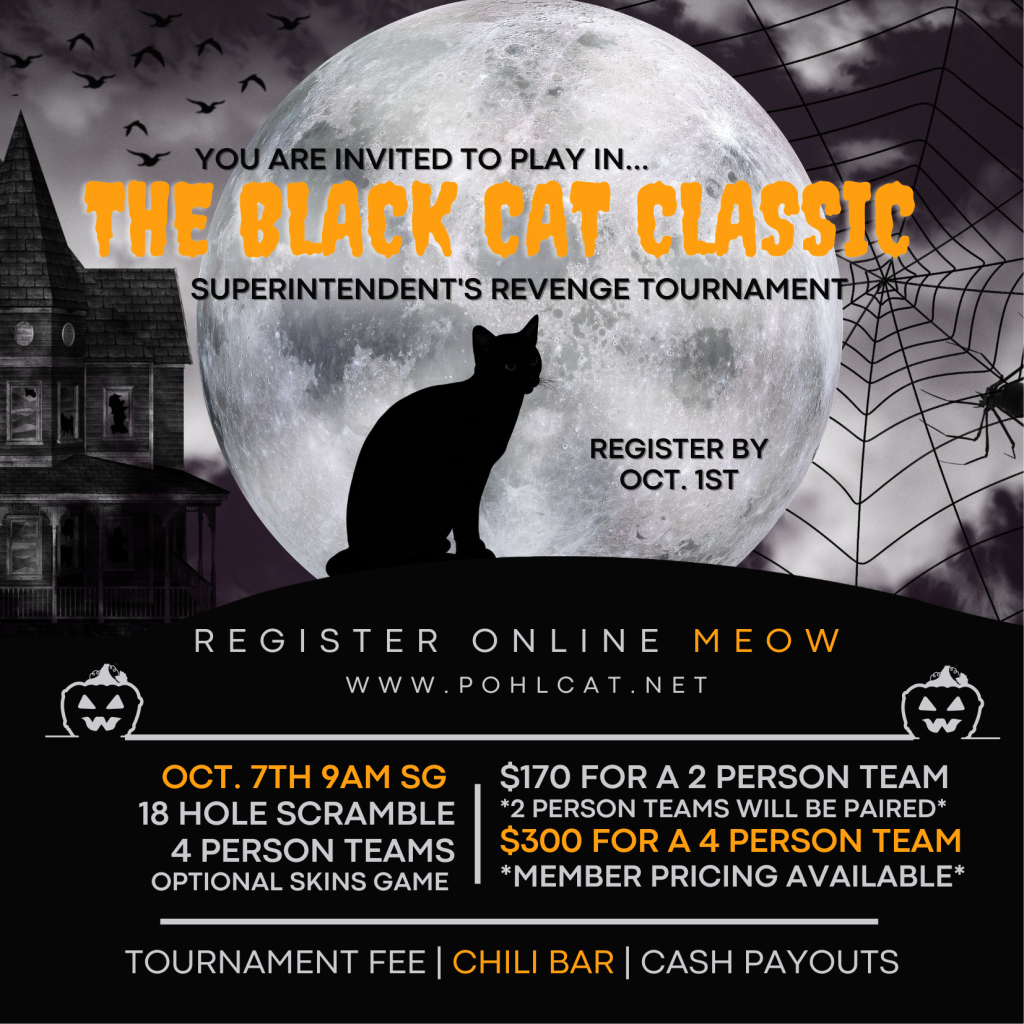 Thanks for registering for The Black Cat Classic! Please call the Pro Shop to make payment at (989) 773-4221. Please note that your registration is NOT COMPLETE until we have payment.
2023 Black Cat Hole Set-Up!
HOLE #1: Rake the Bunker
Par 5. The golfers forgot to rake the bunker, so the superintendent has retaliated! Watch out for the rates that are scattered on the green! You may not move the rakes, and must go over, under, or around!
HOLE #2: Cut It Short
Par 4. The hole seems to have fallen short of the green! Please play to the pin in the fairway, across the river.
HOLE #3: Dozer Crossing
Par 3. Immovable Obstacles: Our maintenance guys seemed to have left the job in a rush and left some of their equipment behind. In case your ball comes to rest against any of the equipment you get one club length of free relief from that obstacle.
HOLE #4: Marshmallow Maze
Par 4. Keep an eye on your ball because it may get lost in the fairway!
HOLE #5: Superintendents Choice, Tough Pin
Par 4. The name says it all!
HOLE #6: Cup Change
Par 4. Watch out! The cup may look different!
HOLE #7: Misplaced Cup
Par 4. Jimmy's flashlight died while he was cutting the cup on this hole. It may be hard to find!
HOLE #8: Construction Zone
Par 4. Our maintenance guys seemed to have left some of their equipment behind. They don't want anyone touching it so you have to make sure that everything is left in place. Between the rakes and shovels, hopefully, your group can find your way to the hole. In case your ball comes to rest against any of the equipment you get one putter head relief from that obstacle (just like putt putt).
HOLE #9: Black Bat
Par 5. This hole requires all golfers to tee off with a baseball bat. (Please make sure to leave the baseball bats on the tee box for the next groups of golfers to follow)
HOLE #10: Rough Tee Shot
Par 3. Testing out a new tee box option for the future. The tee box has been moved to the left side of the fairway, into the rough!
HOLE #11: Island Green
Par 4. This is our "Island Green" hole. We are treating this green like an island. If your ball comes to rest anywhere behind the green or inside the ropes then that will be considered a hazard and you will not be able to play from that spot. Anything before the designated "water" is considered safe. There is a designated drop zone in case all 4 golfers end up going in the "drink." If you are able to get your ball on the green/fringe then congratulations… you are putting for birdie (or eagle). It all depends on where your ball lands and not how it gets there. If you run it up onto the green/fringe then you are all good. If it ends up on anything that is considered rough or fairway then you're wet and unable to play that ball.
HOLE #12: Through the Barn Door
Par 4. We have some bails of hay set up in front of the tee markers that you must hit through the gap or over. This is definitely a very mental shot. The ball doesn't bounce off of the hay too much so you'll be safe…. Hit away!
HOLE #13: Superintendents Choice, Tough Pin
Par 5. The name says it all!
HOLE #14: Seeing Double
Par 3. There will be two pins on opposite sides of the green. After you hit your tee shots, you can choose which cup to putt to, but must declare which cup before the first putt is made.
HOLE #15: One Club Rule
Par 4. Each team must select one type of club from their bag. They are required to play the ENTIRE hole, start to finish, with that single club. Example: All players play with an 8-iron.
HOLE #16: Superintendents Choice, Tough Pin
Par 5. Our tee boxes have been moved up to entice you to go for it on your 1st shot.
However, there is a catch… the pin will be on the top tier of the green.
HOLE #17: Hosed
Par 3. There is a hose on the green that will swirl around the hole. You are not allowed to chip on the actual green. This is where strategy might come in handy for your group. Taking a shot from off the green might be better if there is a ball on the green outside of the hose.
HOLE #18: Bathroom Break
Par 4. All players must tee off while sitting on the toilet! This is a great photo opportunity!
*Subject to change